Affordable Pet Labs
Regular price
$95.00
Sale price
$74.99
Unit price
per
Sale
Sold out
Affordable Pet Labs Intestinal Parasite Testing Kit for Dogs: Your At-Home Solution for Canine Health Monitoring
In a recent year, the Companion Animal Parasite Council reported that over 1.4 million pets, including dogs, tested positive for intestinal parasites. There's no better time to take control of your dog's health. Affordable Pet Labs offers a comprehensive, reliable, and budget-friendly way to do just that—all from the comfort of your home.
Why Choose Our At-Home Intestinal Parasite Testing Kit for Dogs?
🇺🇸 Nationwide Availability: We ship our complete testing kits throughout all 50 states. No matter where you reside, we've got your canine companion's health covered.
💵 Affordability: Our testing kits are priced 30-60% lower than what you'd typically pay for traditional vet tests, making proactive pet care more accessible for everyone.
🔬 Precision Testing: We use the centrifugal flotation technique, a veterinarian-recommended method, along with the advanced ELISA test for Giardia detection, to accurately identify intestinal parasites and ova.
🥼 Expert Oversight: Have peace of mind knowing that each sample is microscopically reviewed by laboratory experts to ensure the most accurate results.
How It Works Is As Easy As 1-2-3:
Order Online: Purchase our Intestinal Parasite Testing Kit for Dogs.
Sample Collection: Use the provided tools in the kit to collect a fecal sample from your dog, following the easy-to-understand instructions.
Mail & Await Results: Use the pre-paid shipping label to send back the sample. You can expect to receive your detailed results swiftly, enabling you to consult with your vet for any necessary next steps. (Results can take up to 5 business days to be reported.)
What's Included in the Kit?
Sterile collection tools
Easy-to-follow instructions
Pre-paid shipping label for hassle-free mailing
Don't leave your dog's health to chance. Prioritize their well-being without ever leaving home. Why gamble with the unknown when you can have peace of mind with our trusted, expert-verified testing methods? Order your Intestinal Parasite Testing Kit for Dogs today and be the hero your dog deserves! 🐾💕
Share
View full details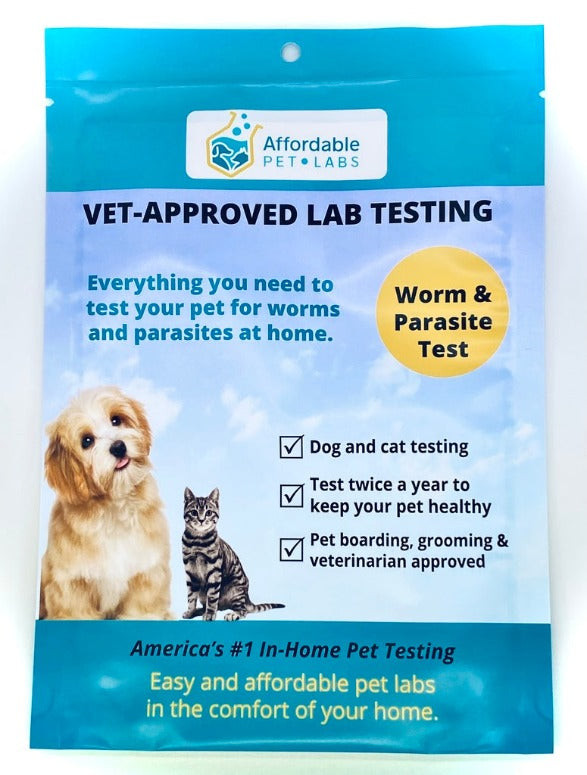 Fecal Test plus Giardia
The test had a two day shipment label, I mailed it Monday morning at a UPS store and it's Thursday and hasn't arrived to you yet!
Have not received any results
It's been over a week since I mailed them in. You are emailing me to request a review. At this point I've spent $130 and gotten nothing back - it was supposed to be 2-3 days
Great Customer Service & Quick turnaround
Great Customer Service & Quick turnaround, Thank you!
Quick, easy & good price!!
My dog attends day care and they require a fecal test w/ Giarda every 6 months. We always do testing at his yearly check up but always had trouble finding a way to complete the 6 month fecal test without a visit to the vet. Was go glad I found affordable pets. I ordered the at home test which came quickly. Directions were clear on how to collect the sample and then I dropped the kit off at a UPS on Tuesday morning and then by Wednesday morning the results were in and I received an email with the PDF of results. Plan to use affordable pets again in the future!