Affordable Pet Labs
Regular price
$75.00
Sale price
$62.99
Unit price
per
Sale
Sold out
Protect Your Dog's Health with Affordable Pet Labs' Intestinal Parasite Testing Kits
In 2020 alone, the Companion Animal Parasite Council reported that more than 1.4 million dogs and cats in the United States tested positive for at least one intestinal parasite. Given these statistics, regular testing has become increasingly crucial. Why spend a fortune at the vet when you can get trusted, veterinarian-recommended tests for your dog at a fraction of the cost?
Why Choose Affordable Pet Labs' Intestinal Parasite Testing Kits for Dogs?
Nationwide Coverage: We ship our kits throughout the entire United States, delivering reliable pet health solutions directly to your doorstep.

Cost-Effective: Experience substantial savings with our testing kits, priced 30-60% lower than what you'd typically pay at a vet's office.

Highly Accurate: We utilize the centrifugal flotation technique—recommended by veterinarians—as well as state-of-the-art ELISA tests to detect a wide range of intestinal parasites.

Expert-Verified: All samples are microscopically reviewed by laboratory experts, ensuring the most accurate results for your peace of mind.

Complete Kit: Our kit includes everything you need, from collection tools to a prepaid shipping label. Simply collect the sample, mail it back, and receive your results swiftly.
How It Works
Order Your Kit: Visit our online store and purchase the intestinal parasite testing kit for dogs.

Sample Collection: Utilize the collection tools provided in the kit to gather a fecal sample from your dog.

Mail It Back: Use the prepaid shipping label to send the sample back to our lab.

Receive Results: You'll receive detailed, secure results so you can consult with your vet for any necessary next steps. (Results can take up to 5 business days to be reported.)
Why take risks when it comes to your canine companion's health? Invest in peace of mind and ensure your dog's well-being with our Intestinal Parasite Testing Kits. Order now and keep your pet healthy and safe—all from the comfort of your home. 🐾🏡
Share
View full details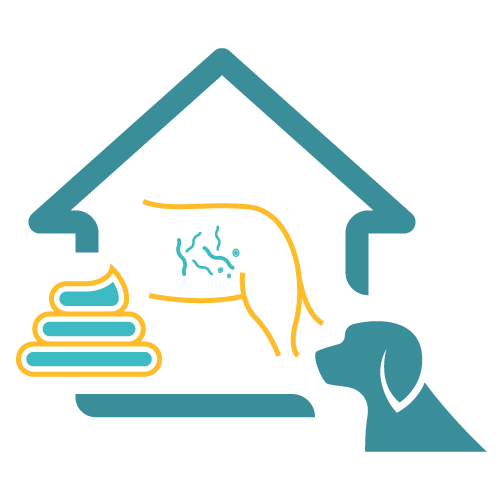 Wonderfully efficient
My vet who is relatively far away from me said I could bring the sample back to her. That would be at least 1.25 hours one way by subway. She also said I could take the sample to a local vet. A vet at a closer location to me wouldn't test the sample unless he did a full office visit evaluation, even though he had seen my dog before I'd adopted him and declared him fine--totally ignoring all signs that my dog has serious neurological and sight problems. So, NEVER going back there, don't care how close he is. Affordable Pet Labs is a much needed solution with prices that don't take advantage of consumers. I missed the whole QRC thing on the back of the booklet, so called after 3 days and spoke to a very kind and smart person who helped me immediately. I plan on using APLabs regularly from now on.
Mail-in dog fecal test
Easy collection with provided collection kit, Super fast results.